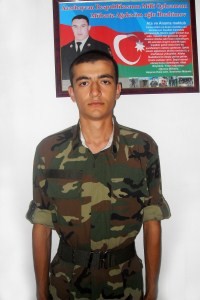 We believe that you will like the poets on patriotism committed to paper by our soldiers, who has newly taken the military oath, and joined our teams.


Soldier Azimzada Kamran Vagif was born on November 28, 1993 in Lankaran city. He studied in Azerbaijan State National Aviation Academy on the specialty "Radio Technician" within 2010-2014. He has been serving in the Internal Troops since July 14, 2014. The biggest dream of Kamran, who is distinguished with his discipline, knowledge and skills from his first day in service, is to fulfill his obligation before the motherland adequately. Here we introduce you the poet dedicated to the Great Leader, our National Leader Heydar Aliyev that was written on the first days in service by K. Azimzada, who had great interest in poetry and verse even from his childhood.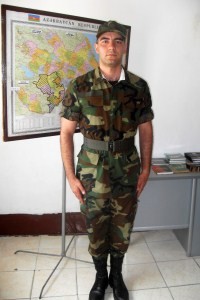 Another military serviceman being distinguished with his high discipline and creativity is soldier Shovgi Amiraslanov. Soldier Amiraslanov Shovgi Ulvi was born in 1992 in Baku city. He completed his university education in "Transport Management" in Azerbaijan Technical University within 2010-2014, and entered the master's level of education. And he has been serving in the Internal Troops since July 14, 2014. Shovgi is planning to continue his study after completing his military service. The poet written by Sh.Amiraslanov, who says that he is proud of serving in the Internal Troops, shows that he is a truly patriot soldier.