On May 11, there was the inauguration ceremony of the soldiers newly recruited in the ranks of the Internal Troops.
First Deputy Commander of the Internal Troops Commander-in-Chief Major General Tofig Huseynov and parents of the soldiers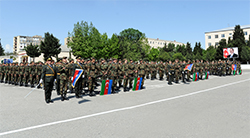 attended the ceremony at the military unit "N" in the Baku garrison of the Internal Troops.
The event started with memory of the National Leader Heydar Aliyev and the martyrs who lost their lives for the freedom of our lands. The National Anthem was performed by the accompaniment of the Symphony Orchestra.
Commander of the military unit, Colonel Ahliman Ilmazov, made a speech and reminded the meaning of the military oath, and honorable and responsible duties of the military servicemen who gave the loyalty promise to the nation, the Republic of Azerbaijan and the Azerbaijan government, as well as the requirements of the relevant articles of our Constitution.
By making the military oath, the young soldiers promised to protect the interests of the Republic of Azerbaijan, its sovereignty, territorial integrity and independence with honor and will die for that.
Then a congratulatory message was delivered by the Deputy Minister of Internal Affairs - Commander of the Internal Troops to soldiers for the military oath.
In the congratulation letter, it was noted that the military servicemen are personally responsible for each task put forward by the President of the Republic of Azerbaijan, Supreme Commander-in-Chief of the Armed Forces, Mr. Ilham Aliyev. In addition, it was emphasized in the congratulation letter that the attention and care shown to the strengthening and powerfulness of the Internal Troops encouraged every young person serving in our ranks to carry out their duties with dignity.
Farhad Abishov, a soldier who spoke on behalf of young soldiers, called the young colleagues to be proficient in military knowledge, to be brave and disciplined, to be ready for defense of the Motherland.
At the end, Major-General T. Huseynov made a speech. He congratulated young soldiers on the day of military inauguration, and noted that he is sure that all of them will would grow up as worthy sons of the Motherland.
The ceremony ended with a solemn passage of the staff.
It should be noted that there was inauguration ceremony held in other two military units with participation of the deputy commander of the Internal Troops, head of the Logistics Department, Major-General Fakhraddin Samadov and the first deputy of the Commander of the Internal Affairs Headquarter, Major-General Ingilab Muradov.