The memorial ceremony dedicated to the 27th anniversary of Khojaly genocide was held at the Head Office of the Internal Troops on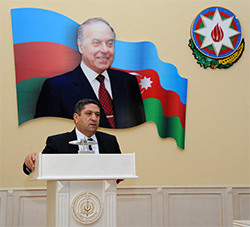 27th of February. The memory of the victims of the Khojaly genocide was commemorated with a minute of silence.
Docent of the Baku State University, philosophy doctor of Historical Sciences Alamdar Shahverdiyev made a speech on Khojaly genocide.
He spoke details of Khojaly genocide and its causes, the extensive bloody war crimes committed against the humanity during the occupation of the city and pointed out the fact that our compatriots have been killed by armenian armed forces since the last century. He regrettably emphasized that althought armenian invaders had done their dirty work series against azerbaijanian people in front of world population, but this historical genocide has not been given appropriate political value by world community.
It was noted that after the nationwide leader Heydar Aliyev returned to government, the true essence of the Khojaly genocide was announced, and in February 1994 the Parliament of the Republic of Azerbaijan gave legal and political assessment to this horrible genocide. The unprecedented events in history have left deep imprints on the memory of our people. Although years have been passed, the Khojaly genocide is commemorated with deep sorrow and respect.
A. Shahverdiyev who highlighted the steps which taken to introduce the Khojaly genocide to the world community, emphasized that the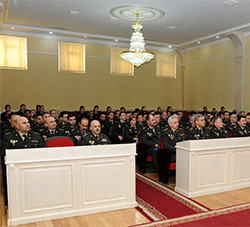 president of the Republic of Azerbaijan Mr. Ilham Aliyev has declared the Khojaly truth to the whole world from the stands of many esteemed international organizations and global forums.
Simultaneously, many countries recognize the Khojaly genocide, as consequences of the work done within the "Justice for Khojaly" campaign initiated by vice-president of the Heydar Aliyev Foundation Leyla Aliyeva.
A. Shahverdiyev noted that each of azerbaijani people has a civil liability to help spreading the information about the unprecedented atrocities committed by Armenian invaders and effusing information about the cruelty against our people.