By the invitation of the Minister of Internal affairs of the Republic of Kazakhstan Kalmukhanbet Kassymov, the delegation led by the Deputy Minister of Internal Affairs - Commander of the Internal Troops lieutenant-general Shahin Mammadov was in the country on an official visit within May 29-31.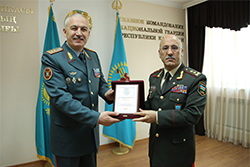 On the first day of the visit, the delegation was received by lieutenant-general Ruslan Jakslikov, Head Commander of the National Guard of the Kazakhstan Republic, which is included in the unit system of the internal affairs authorities. The head of Azerbaijani delegation was informed of service-combat activity and international relations of the National Guard during the meeting. The importance of mutual experience exchange was underlined in the meeting, where the further perspectives of cooperative relations between the related authorities of the two countries were discussed.

In accordance with the program of the visit, the next meeting took place in the Troops Management Center. The management and its technical opportunities were practically demonstrated via a monitor at the event hall of the center.



On that day, the delegation led by lieutenant-general Sh.Mammadov interested in the state of training and education at the National Defense University of the Republic of Kazakhstan and got acquainted with the conditions created there.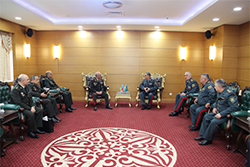 Afterwards, the delegation consisting of the Internal Troops' officers was at the military unit No.N of the National Guard, which is located in Astana city. They viewed the military equipment and several armored vehicles used by the military unit, and got acquainted with the National Guard Museum there.

On the last day of the visit - May 31, the delegation met major-general Erkin Botakanov, Head of the Central Regional Command of Kazakhstan National Guard in Karaganda city. In the wake of the meeting, which was held under the condition of mutual debate, the guests visited two military units of the Regional Command. The delegation got familiar with the military-technical advantages of the military unit, the service-combat activity of the personnel, as well as the social welfare.
The official visit of the Internal Troops' delegation to the Kazakhstan Republic was ended on May 31.


| | |
| --- | --- |
| | |