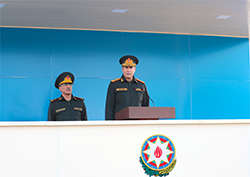 It is reported that the Minister of Internal Affairs, colonel-general Vilayat Eyvazov, visited Sumgayit city on November 29, in order to receive the citizens who had contacted in connection with the matters related to the activity and powers of the police. Within his visit to Sumgait, the minister visited military unit of Internal Troops of the Ministry of Internal Affairs, located in this city.
Colonel-general V. Eyvazov, accompanied by the Deputy Minister, Commander of Internal Troops, Lieutenant-general Shahin Mammadov, inquired after the barracks and living conditions, nutrition, health of the militaries, as well examined in detail the weapons supply, cars and armored vehicles fleet, work on improvement, construction, implemented onin the territory.
The Minister of Internal Affairs, V. Eyvazov, speaking after this before the personnel who were lined up on the parade ground, told about positive results obtained in all fields of the country's life, including the field of reforms in internal affairs bodies, fight against crime and violation of public order, after the problems that Azerbaijan faced in the first years of its independence, occupation of our lands, return to power of great leader.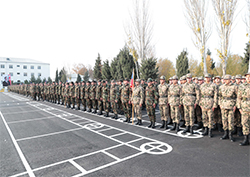 The Minister, who emphasized that the President of the country, the Supreme Commander-in-Chief of the Armed Forces, Mr. Ilham Aliyev, always highly appreciates the role and dedicated service of the Ministry of Internal Affairs of the republic and Internal Troops, which are its integral part, in protecting public order, effective organizing the fight against crime, protecting statehood from criminal attempts, ensuring the rights and freedoms of human and citizen, said that much attention is paid to supplying internal affairs bodies with necessary equipment and machinery, they are provided with technical and special facilities that meet modern requirements, service conditions are getting better every year.
The minister Vilayat Eyvazov, who gave instructions and recommendations to the personnel, said that he was sure that the personnel would respond to the highest attention and care given to them by reliable protection of stability, peace, their model service in the confident fight against crime, and they will continue to adequately fulfill all the duties assigned to them.
Then, the personnel of military unit passed in front of the tribune under the sounds of solemn march.