At an event on April 18, held in the military unit "N" of the Internal Troops of the Ministry of Internal Affairs, conducted under the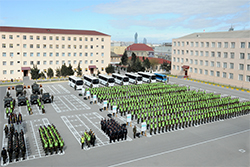 leadership of the Deputy Commander-in-Chief of the Ministry of Internal Affairs, Lieutenant-General Shahin Mamedov, and together with other law enforcement agencies, the training of servicemen for maintaining public order and ensuring public safety was checked, as well as supply issues as well as the condition of the vehicles.
The commander of the internal troops was informed that during the race, the planned preparations for the full-scale implementation of the assigned tasks were ensured. First of all, an appropriate plan was prepared, and the staff was divided into service areas, a central control center was created to coordinate joint activities of law enforcement agencies and troops, organize events and establish relationships with relevant government bodies. The locations and facilities at which the races will be organized were checked for the organization of the service, and the commander of the relevant commissions was familiarized with the duty stations. Personnel involved in the performance of military service tasks were told about the importance of the event, the principles of legality, the protection of the rights and freedoms of citizens and the need to take responsibility for the performance of their duties.
At the same time, it was noted that special trainings were conducted on the protection of facilities allocated at the preparatory stage, ensuring the work schedule at checkpoints and the participation of female military personnel in relevant trainings.
In order to check the preparations for the event, a special departments of personnel involved in the service of the perimeter, including overalls, complex supplies, special equipment, communication equipment and vehicles were inspected.
Lieutenant General Shamil Mammadov, assessing the readiness of staff, stressed the importance of a responsible approach to the implementation of the Formula 1 Grand Prix of Azerbaijan and the timely and full implementation of measures. He gave specific instructions regarding the service and wished the staff good luck in this responsible work and expressed confidence that the tasks would be performed at a high level.