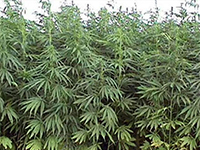 A range of operational-research and preventive measures in the fight against illegal drug trafficking were carried out in the forest areas of Balakan and Zagatala regions on July 25-26 with participation of the officers of related authorities of the Ministry of Internal Affairs and the military servicemen of the State Border Service.

It was noted in the joint information entering into APA from the press services of the Ministry of Internal Affairs and the State Border Service that the facts about cultivation of drug-containing plants in forest lanes were revealed as the result of the operations, in which the helicopters of the MIA Internal Troops were involved. 26660 drug-containing hemp bushes with 26 tons 685 kilograms gross weight and dried marijuana with 23 kilograms net weight were found out and captured by these facts.

According the aforesaid facts, criminal cases have been initiated under the relevant articles of the Criminal Code, and necessary operational investigative measures are being taken.

3 persons suspected of committing these crimes were detained and brought to interrogation.

Necessary measures against illegal drug trafficking are continued.