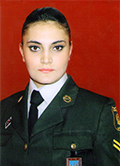 One of our military servants distinguishing by exemplary service and discipline in Internal Troops of the Ministry of Internal Affairs, is Gunay Aliyeva who serves in the military unit "N" in Baku. The female soldier, who is responsive to her service duties, represents the Internal Troops with high professionalism in international sports competitions at the same time.

It was reported to "AZƏRTAC" from the press service of the MIA that our military servant, who has been engaging in the sport of karate for 12 years is the master of "first degree black belt". The athlete, who gained the title "Champion of Asia" in 2008, won the title of South Caucasus Champion in the kings-boxing championship in Georgia, and the third place in the world championship in Ukraine in 2011.

Gunay winning the title of European champion in 2015 for the next time is recognized as the winner of the world championship in kempo karate and kobudo held in Kharkov, Ukraine, from 4 to 7 May 2017.

The achievements of our military servant make every Azerbaijani happy. We wish new victories to master sergeant G. Aliyeva, who makes Azerbaijani flag wave in international competitions and the authority she represents happy with her achievements.