On the eve of Victory Day, Minister of Internal Affairs, Colonel-General Vilayat Eyvazov, Deputy Minister - Commander of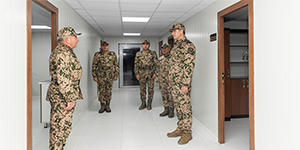 Internal Troops, Lieutenant-General Shahin Mammadov, Chief of Staff, Major-General Tofig Huseynov, and Deputy Commander, Major-General Ingilab Muradov visited the locations of military personnel of the Ministry of Internal Affairs in the territories liberated from occupation.
Minister V. Eyvazov inquired about the barracks and living conditions, nutrition and health of the servicemen, and also got acquainted with the logistics, gave relevant instructions and recommendations.
Colonel General Vilayat Eyvazov emphasized that consistent measures are being taken to improve the logistics base, barracks and living conditions of military personnel, as well as to provide them with advanced equipment, special tools and communication systems in accordance with the tasks issued by the Victorious Commander-in-Chief of the Armed Forces Mr. Ilham Aliyev, President of the Republic of Azerbaijan, to organize service at the level of modern standards in the areas liberated from occupation.
Noting that police officers and military personnel continue their honorable service in the liberated territories with great determination and professionalism, the minister congratulated them on Victory Day and wished them success in their service.

Information from the press service of the Ministry of Internal Affairs
| | |
| --- | --- |
| | |