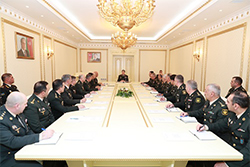 On January 16, a ministerial operational meeting dedicated to the results of service and combat activities of the Internal Troops in 2019 was held at the Ministry of Internal Affairs.
Opening the meeting with his introductory word, the Minister of Internal Affairs, Colonel-General Vilayat Eyvazov highlighted that the head of our state always paid particular attention to the internal affairs bodies in general, as well as improving the activities, logistics and barracks living conditions of the Internal Troops, which are an integral part of it.
The Minister highlighted that the Troops had a special role in maintaining internal stability and expressed with satisfaction that the personal staff actively participated in ensuring public order and security, fighting against crime, conducting special operations, and became an organization with high professionalism, combat and moral-psychological training.
Deputy Minister of Internal Affairs-Commander of Internal Troops, Lieutenant-General Shahin Mammadov made detailed report on the results of the service and combat activities.
The commander highlighted that the main tasks of combat training were to improve the regulatory and legal framework last year, to adapt trainings to real combat conditions, to improve theoretical knowledge of the personal staff, to engraft professional practical skills into them, to increase the level of their moral-psychological and physical training.
Summing up the meeting, the Minister of Internal Affairs V.Eyvazov highly appreciated the results of the service activities of the personal staff, spoke about the upcoming tasks, and gave them specific instructions and recommendations.
The Minister required organization and conduct of management activities, combat services in the military units, training of the military servicemen in the spirit of devotion to the Motherland and the people, further improving their physical and military training, and being always ready for any orders and instructions, as well as in extreme situations, and said that the military servicemen of the IT would continue to properly fulfil the tasks and instructions set by the legislation.
Information of the Press Service of the Ministry of Internal Affairs