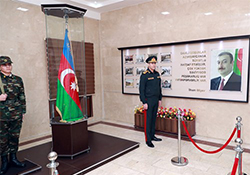 On December 29 - the eve of the International Solidarity Day of Azerbaijanis and New Year, the Minister of Internal Affairs, Colonel-General Vilayat Eyvazov visited the military units of the Internal Troops of the MIA located in Shirvan city and Hajigabul region.
Following the welcoming ceremonies, the Minister signed the "Book of Honour" at the headquarters of military units, took interest in barracks condition, logistical and food supply of soldiers and military servicemen and inspected study rooms, weapon rooms, car and armoured vehicles park, medical centres and cafeterias accompanied by the Deputy Minister - Commander of the Internal Troops, Lieutenant General Shahin Mammadov and commanders of the military unit.
Lieutenant General V.Eyvazov, speaking in front of the military servicemen and soldiers lined up in the row squares of the military units, noted that as a result of successful continuation and development of the development and progress strategy laid by the great leader by the President of the Republic of Azerbaijan, the Supreme Commander-in-Chief of the Armed Forces Mr. Ilham Aliyev, the economic power and defence potential of our country have been increased and international positions have been strengthened. He emphasized that our honourable head of state always paid special attention to the general army building, including the improvement of the activity of the Internal Troops, their logistical support and further improvement of their working and living conditions, and noted that extensive renovation and construction works were carried out in all military units of the Troops, facilities of various purposes, including new military camps, military barracks were constructed and residential complexes with all amenities were commissioned for officers and ensigns.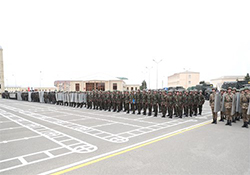 The Minister, congratulating the soldiers and officers on the occasion of the International Solidarity Day of Azerbaijanis and New Year, expressed his confidence that the personal staff of the Internal Troops will further contribute to the reliable protection of stability, tranquillity, resolute struggle with crime in our country, fulfil all the tasks set forth properly and justify the high attention and great trust shown to him with his faithful service to his people, his Motherland, his state and his President.
At the end of the events, personal staff of the military units crossed the front of the tribune under the sounds of the ceremonial march.
Information of the Press Service of the Ministry of Internal Affairs