On September 10, Deputy Minister of Internal Affairs - Commander of Internal Troops Lieutenant-General Shahin Mammadov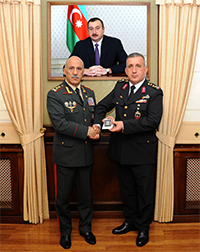 received the Counselor of the Commander of Internal Troops Colonel Mustafa Chekich, who completed his official trip.
Speaking about the mutual good relations between the Republic of Azerbaijan and the Republic of Turkey, Lieutenant-General Sh.Mammadov noted that important works have been done in development and improvement of the training process of each military servant of the Turkish Gendarmerie General Command who are on an official trip in the Internal Troops. He thanked Colonel Chekich for his initiatives in organization of new courses in the relevant training centres of the Gendarmerie General Command of the Ministry of Internal Affairs of the Republic of Turkey, especially for special purpose units of the Internal Troops.
Colonel M. Chekich, in his turn, expressed his satisfaction for being in the official trip in the Internal Troops and conveyed his deep gratitude to the Commander of the Internal Troops for the attention and care shown to him during this period.
During the meeting, which was held on the basis of mutual exchange of views, it was noted that sincere friendship and military cooperation between the relevant bodies of the two fraternal countries would further continue successfully.
Expressing his sincere wishes, Lieutenant-General Sh. Mammadov wished Colonel M. Chekich success in his new post, upcoming activities and happiness in his private life.
At the end of the meeting, the Commander of the Internal Troops awarded Colonel M. Chekich with a badge "For distinction in service" and presented him a book dedicated to the 25th anniversary of the establishment of the Internal Troops, and a souvenir photo was taken.