This opinion was once again confirmed during a visit of a a delegation led by Internal Troops Commander Lieutenant General Shahin
Mammadov to Turkey
A delegation led by Deputy Minister of Internal Affairs, Internal Troops Commander Lieutenant General Shahin Mammadov, made an official visit to Turkey on May 22-25.
On the first day of the visit, the delegation met with the Commander of the Gendarmerie of the Republic of Turkey Army General Arif Cetin.
During the exchange of views, Army General A.Cetin welcomed the Commander of the Internal Troops, emphasized the high level of business cooperation between the Internal Troops of the Ministry of Internal Affairs of the Republic of Azerbaijan and the Gendarmerie Forces of the Ministry of Internal Affairs of the Republic of Turkey, and stated the readiness for necessary support for further improvement of the Internal Troops.
Lieutenant-General Sh.Mammadov expressed gratitude for the sincere and hospitable welcome and expressed his satisfaction with the official visit to Turkey.
The same day, the delegation met Chief of General Staff of the Turkish Armed Forces, Army General Yashar Gular, Deputy Minister of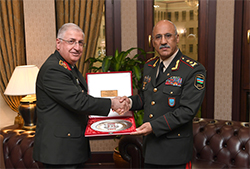 Internal Affairs Muhtaram Ince, Chief of the Gendarmerie and Coast Guard Lieutenant General Huseyn Kurtoglu, and acquainted with Operation Management Center at Gendarmerie General Command.
Within the framework of the visit, trainings on prevention of violation of the public order, mass disorders and neutralizing armed gangs were demonstrated to the delegation at the Gendarmerie Private Guard Headquarter. In addition, the delegation was closely acquainted with the organization of training and logistics issue of the Turkish Gendarmerie Forces.